So Hubs got home Saturday after being at Parris Island for a week with his Young Marines. The kiddos had a lot of fun, but a couple of them might have had a little "too much" one on one time with the drill instructors haha. But even those kids came back and said they couldn't wait to go back again next year. Here is Hubs and Monk at the unit right after Hubs got back.
Also we called the local news and asked them to come and cover the "homecoming" in hopes that airing it on the news would help get the word out, and hopefully we will have a larger group of recruits at the next bootcamp. Here is a video of Hubs getting interviewed that I took. Poor guy was sooo nervous! He really didn't want to do this haha.
But what's even funnier is that Hubs got super excited getting to see all the DIs. He has wanted to go DI since he joined but the timing was never right. And now recently we have been talking about how he no longer wants to be active duty because he's ready move back home to Texas and settle down. Buy a house and actually live somewhere longer than 6 months. Well now after PI I'm sure he's more gung-ho than ever to re-enlist and go to DI school.
I'm fine with whatever he chooses. I would love to move back home, and I can't wait for us to buy a house but at the same time any time we start to seriously talk about him getting about I have a mini panic attack. The only thing that can ever calm me down is thinking that even if we did get out and it didn't go well, he could just get back in. I guess it's just because our entire marriage has been him active duty. With the way the economy is right now, I love the security (and the insurance) that comes with knowing he can't be fired. He doesn't have to worry about going on strike, or getting a pay cut. Out in the civilian world I don't know of any jobs that offer that kind of security.
Here are some pictures taken before Hubs left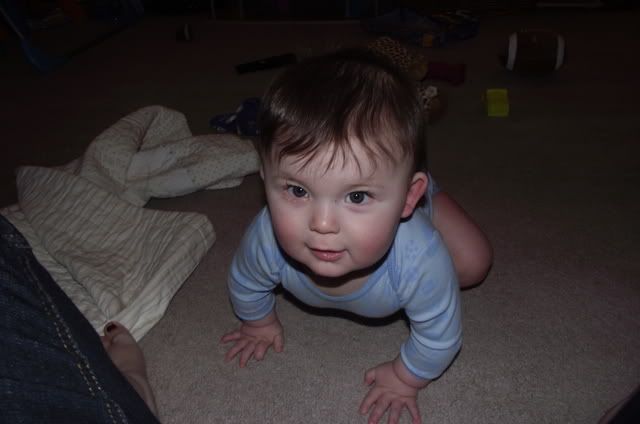 Hubs really likes to play xbox with my dad, Monkey will sometimes sit in Hubs lap and watch him play. I think Monk missed watching Call of Duty so he was taking it into his own hands, he was ready to play!
"Popo, if Daddy can't play with you, I will"